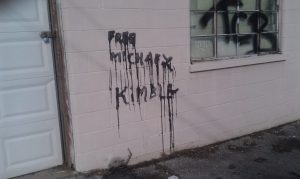 Revolutionary salutations to Marius Mason and all long term anarchist prisoners being held captive by the state, and to all anarchists around the world.
My name is Michael Kimble and I am a long term anarchist prisoner in the state of Alabama. I've been imprisoned for thirty-one years and throughout my imprisonment I've been engaged in the fight against authority and domination, and the how-to end this miserable existence.
Throughout this fight I've come to the conclusion that there is no clear cut way to bring this nightmare to an end and to sustain our movements, and projects except through building relationships involving everyday life. Building relationships builds trust, loyalty, understanding and cohesion. Cohesion is what is going to sustain us, our movements, projects and comrades behind the walls.
We only have to project the principles of anarchism such as mutual aid, cooperation, a healthy dose of hatred for all forms of oppression, domination, authority and capital. Relationships based on a shared vision of struggle, but also accompanying all the above can be subversive. It's simple, but difficult to practice due to our socialization into what we have now.
We, long term prisoners can do nothing other than fight back and survive. But to survive in a healthy way, we need our movements strong and healthy. And I think that we are on that road. The road to creation cohesion – community.
Shout out to all those around the world who have written to me, sent cards, commissary funds, shoes and most importantly making me part of your lives.
Smash The State!
Fire To The Prisons!
A Luta Continua!
Tuta Shinde Mbili Shaka
(together we can win without doubt)
EE.UU. : 11 DE JUNIO, COMUNICADO DEL COMPAÑERO MICHAEL KIMBLE
Saludos revolucionarios a Marius Mason y a todxs lxs prisionerxs anarquistas de larga condena que están cautivos por el Estado y a todxs lxs anarquistas de todo el mundo.
Mi nombre es Michael Kimble y soy un prisionero anarquista de larga condena en el estado de Alabama. He estado encarcelado durante treinta y un años y durante mi encarcelamiento he estado involucrado en la lucha contra la autoridad y la dominación, y en el modo de como poner fin a esta existencia miserable.
A lo largo de esta lucha, he llegado a la conclusión de que no hay una forma clara de poner fin a esta pesadilla y de mantener nuestros movimientos y proyectos, excepto a través de la construcción de relaciones que involucren la vida cotidiana. Construir relaciones genera confianza, lealtad, comprensión y cohesión. La cohesión es lo que nos sostendrá, nuestros movimientos, proyectos y compañerxs detrás de las paredes.
Solo tenemos que proyectar los principios del anarquismo como el apoyo mutuo, la cooperación, una saludable dosis de odio a todas las formas de opresión, dominación, autoridad y capital. Las relaciones basadas en una visión compartida de la lucha, pero que también acompañan a todas las anteriores, pueden ser subversivas. Es simple, pero difícil de practicar debido a nuestra socialización que tenemos ahora.
Nosotrxs, lxs presxs de larga condena no podemos hacer nada más que luchar y sobrevivir. Pero para sobrevivir de manera saludable, necesitamos que nuestros movimientos sean fuertes y saludables. Y creo que estamos en ese camino. El camino hacia la creación de una cohesión – comunidad.
Un agradecimiento a todxs aquellxs alrededor del mundo que me han escrito, enviado tarjetas, fondos para el comisariato, zapatos y lo más importante haciéndome parte de sus vidas.
¡Abajo al Estado!
¡Fuego a las prisiones!
¡La Lucha Continua!
Tuta Shinde Mbili Shaka
(juntos podemos ganar sin duda)
FUENTE: JUNE 11
TRADUCCIÓN: INSTINTO SALVAJE